A Product That Brings Peace and Style
That's right! You are going to find peace and style with these essential oils. If you like a basic boho look to your wardrobe, then you will love the diffuser jewelry. This store has you covered with:
Diffuser Bracelets
Diffuser Necklaces
Diffuser Rings
Diffuser Earrings
Glow Bracelets
What better way to relieve stress than to wear your relaxation all day? These beautiful pieces have any color you want. If you want a single color in different shades – they've got it. If you wish to have a bead of different colors, they have it. And if you want a gemstone, they have those too.
All Vitality's jewelry is paired with absorbent material such as:
Volcanic beads
Natural stone
Glass Beads
Wood Beads
All jewelry is lead-free, with durable and adjustable material.

The Simplicity of Smell
As one of our five senses, smell plays a "vital" role in our well-being. However, it is a known fact that some people may not think the smell sense is that important. But think about if you didn't have a sense of smell. For instance, have you ever walked by a bakery and smelled the fresh bread baking in the oven? What feeling did that give you?
Did you want to stay there all day and feel warm and cozy? I wonder if you noticed the day as a little bit brighter. Different aromas may bring out different attitudes in us. If we are having a bad day, the scent of some fresh wildflowers we happened upon on our daily walk could stimulate a happy feeling.
Therefore, it is time to realize the benefits of aromatherapy. And if you are not a jewelry person, then consider some of these ideas listed on the Vitality website:
1
Roll-On Bottles:
Roll a little magic on your wrist or to any temple point and feel relaxed all day.
2
Carrier Oils:
  Mix it with your favorite lotion or dilute it down if you are sensitive to putting them directly on your skin.
3
Hair And Body:
Apply to your scalp or hair if you have a dry or irritated scalp. Apply to hair for thickness and shine.
The takeaway is that there is an abundance of ways to use or wear essential oils. Other options besides the ones that I have listed here are a capsule or car diffuser. You can use these without touching the product at all. All you need to do is revel in the aromatic bliss of the oils. Vitality Extracts has all your needs.
Scents That Make Sense
At this point, I want to describe the array of aromas that are available for purchase and the many different ailments essential oils can help. The three targets that using these oils will benefit are: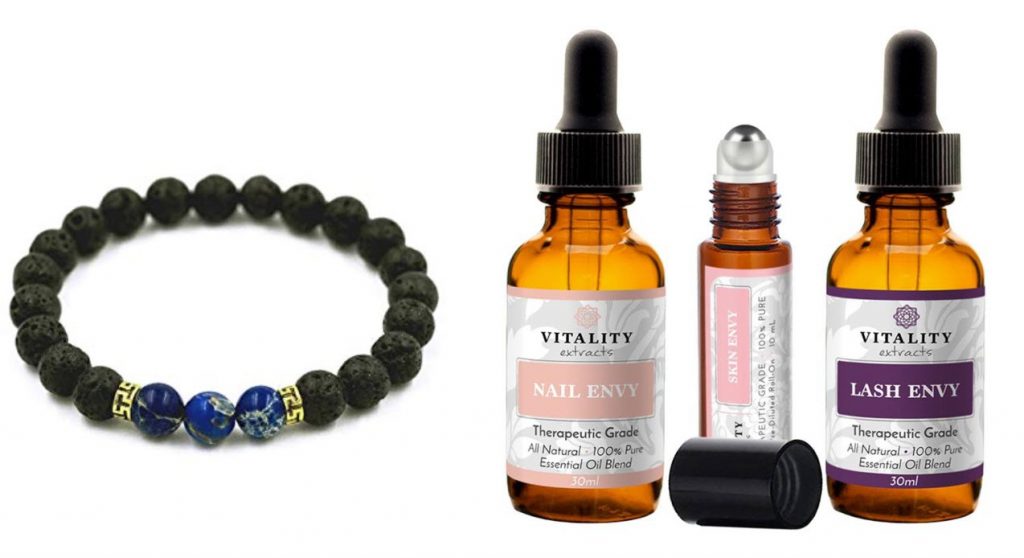 Body:
Body

$16.00-39.95 USD

/Product

Coconut Oil:       $12.00 USD
Pain Away:         $39.95 USD
Lash Envy:          $20.00 USD
Nail Envy:           $31.00 USD
Almond Oil:        $17.95 USD
Jojoba Oil:          $19.00 USD

Body

$16.00- $39.95 USD

/Product

Hair Envy:          $35.00 USD
Healthy Scalp:   $35.00 USD
Skin Envy:          $16.00 USD
Energy:               $20.00 USD
Deep Muscle:     $16.00 USD
Immunity:           $17.00 USD
Breathe Easy:    $18.00 USD
As you can see, the oils offered at Vitality for your body target crucial things like keeping your immune system healthy and helping with anxiety. Body oils also help with aesthetic conditioning like hair and nail treatments.

Mind & Soul:
Mind

$17.00- $20.00 USD

/Product

Inner Peace :          $19.00 USD
Sweet Dreams :      $18.00 USD
Stress Away:          $20.00 USD
Migraine Care:       $17.00 USD
Calm:                      $19.00 USD

Soul

$19.00- $21.00 USD

/Product

Refresh :             $19.00 USD
Align :                  $21.00 USD
Abundance:        $19.00 USD
Balance:              $21.00 USD
Spirit :                  $21.00 USD
Mind
Your mind, or your
brain
, is your circuit box to your whole body. It determines how you think and feels, how you learn and remember, and the way you move and talk. Therefore, it is the most critical part of healthy. These essential oils will target your ability to maintain a peaceful and calm mind so that the brain can work on all those vital areas. If your brain isn't functioning well, neither will you.
Soul
Our souls need to keep balance. Seven chakras align our souls:
Crown
Third Eye
Throat
Heart
Solar Plexus
Sacral
 Root
These five essential oils will maintain a healthy balance for the soul. A great time to use them would be during meditation or yoga.

The Price For Vitality
Vitality is all the things discussed in this article. It is energy. It is spirit. It is sowing the seeds of living the best version of yourself. The question is, how much does it cost? At Vitality Extracts, the cost is not high at all. With their many discounts and sales, you are sure to find just the right essential oil or oils you seek for your desired treatment.
Join Social Media:                                    15%
Shipping Free:                                          Over $50
Friday Discount:                                        $5
Oils Price Range:                                       $9-$100
Discount
This business offers a 15% first-time discount just for visiting and joining their social media platform. They also offer free shipping with orders over 50 dollars.
Do not miss out on 5 dollar Fridays! Not only that, if you like earning rewards at your favorite shops, Vitality also has that when you join Vitality Vibes.
You get points for sharing their products, birthday rewards, besides other options to earn points.
Products and oils range in prices from as low as 9 dollars to 100 dollars and over.
It depends on what product you are purchasing. I think you will find the prices are super reasonable.

To wrap it all up, Vitality Extracts is your place for essential oils for the body, mind, and soul. They have developed many ways to partake in aromatherapy with their essential oils. They also have made it completely affordable. All you have to do is want a better value of life.