While learning how multiplication works when we were children, the most of us encountered a conundrum at some time in our education. We belonged to the group of individuals who would wince whenever they heard or saw anything that had anything to do with multiplication in arithmetic, which included us. If only I'd had anything similar to Times Tales when I was a youngster, maybe the times table wouldn't have been so terrifying to me back then. This is a problem that even teachers who have homeschooled their students encounter.
Occasionally, some of the students they coach may have difficulty grasping the fundamental notion underlying how the times table works. Timetables are driving you and your homeschooling students mad? Do you have a child who is having difficulty with times tables, arithmetic facts, and anything else in school? Are you looking for a quick and simple method of learning multiplication?

Then say no more! Times Tales may be the difference between success and failure for you and your children. In fact, it could be all you need to rescue your homeschooling endeavors in the long run. Now let me familiarize you with what Times Tales is all about.
What is Times Tales???
So, what exactly is Time Tales? When it comes to learning the upper times tables, Trigger Memory Systems has developed a novel technique called Times Tales, in which a short one- or two-sentence story is given for each multiplication pair (for sixes and above.)
Each number is represented by a character, such as Mrs. Snowman for the number "8," which is so named because it resembles a snowman. The multiplicand and multiplier are represented by the two characters in each story, and the number of things in each tale represents the product for each pair of characters.
It may appear easy to those of us with right brains (and maybe baffling to those of us with analytical left brains), but it makes perfect sense to children, who like it. The answer number is in some way incorporated into the plot in each of the stories.
Example
There are two tree homes for the number 9 x 9. One of them produced eight apples, whilst the other produced only one. As a result, the correct answer is 8 and 1 – eighty-one.

The stories are straightforward, consisting of simply one statement and accompanied by a picture. You may make the stories far more entertaining for the youngster by exaggerating them just a little bit, inventing reasons why Mrs. Snowman came to visit the Tree House, or why the other Tree House only grew one apple.
Example
For example (which is encouraged in the instructions, as it makes it even easier to remember the stories). Having memorized the stories, the student will practice using flashcards that contain character images rather than standard numerical values, which will serve as reinforcement. Following that, you'll utilize your standard flashcards.

Features
This book might be highly beneficial for students who are having difficulty memorizing numerical facts at the moment. It gives sense to all of those statistics by placing them in a relevant context. The facts are no longer merely a collection of unconnected data that make no sense; rather, they can make sense —in a sense—as a result of the tale.
According to the website, youngsters have learned the most difficult information in less than an hour, and my own personal experiences have shown me that this is achievable as well.
I used the Times Tales book with a 12-year-old who had a difficult time memorizing facts in previous years. He only knew two out of the sixteen facts in the pretest. In 3-6 seconds, he could recall all of the information he had learned over the course of 1 1/2 hours.
Another youngster, who was 13 years old at the time of the pretest, knew just three of the facts. Afterwards, he was able to tell them all in 1-6 seconds after around 50 minutes.
One 9-year-old had previously known only two facts, and after 50 minutes of hard study, he had progressed to the point where he remembered them all in 1-6 seconds or less.
True, these kids will most likely forget everything if they don't put in some more practice time in the coming days and weeks. However, using Times Tales takes far less time than the traditional approaches that the majority of instructors and parents do. In addition, there are illustrations and flashcards for division in Times Tales.
Because the stories are the same, there is no need to memorize any more material. It is important to note that the youngster is learning both multiplication and division concepts at the same time. The use of Times Tales does not take the place of teaching your kid the idea of multiplication, but it does work for many youngsters since it is simple, quick, and entertaining.

Have you ever heard of the way of remembering a list that involves "placement" or linking each item on a list with a home on a street that you are familiar with? It is called the "house-placing" method. Then, as you mentally stroll down the street, you recall the items on your list. The similar premise underpins the game Times Tales. The stories are simple to recall, and the facts will be retained by the youngster as a result of the narrative.
Kids master their multiplication numbers while watching and reciting these simple tales. They may also practice their division facts while watching and repeating these simple tales. It is enjoyable for the children, it does not seem like math practice, and it is basic enough that my seven-year-old is picking it up on it as well.
The DVD
The Times Tales DVD collection is comprised of two CDs that contain all of the information you'll want.
In this video disc you will find the teaching, practice, and quizzing of the stories, as well as the multiplication and division pairs and division pairs. It is separated into two parts so that the children may learn and practice half of the upper times table before moving on to study and practice the other half of the table.
The second DVD includes a number of handouts that may be used for further practice and quizzing.
As previously stated, this only applies to the upper times tables. That indicates that the numbers 5 and below are not covered. If I had any issue about Times Tales, which I don't, it would be that my brain wishes there were stories for the lower numbers as well, because they are so entertaining.
The smaller numbers, on the other hand, are a little simpler to comprehend, and youngsters don't appear to have too much difficulty after they've grasped the basic notion of multiples, at least until they come to the larger numbers.
Once your youngster has mastered the basic times tables, Times Tales may be used to teach the higher numbers in a method that is both enjoyable and straightforward.
While it is possible to teach the full program using only the book, the Times Tale DVD package makes it extremely simple to teach the curriculum. The DVD conducts all of the teaching for you, delivering stories in an animated format and interspersing them with visual quizzes at various points. Facts about division are included in the quizzes.
A second disc is included in the DVD packaging, which contains printable pages from the books that may be used for flashcards, quizzes, crossword puzzles, Roll 'Em cubes, tests, and other activities, as well as an answer key. The DVDs can be used in place of, or in addition to, the printed book.
Worksheets And Flashcards
Insert the second disc into your computer, and you'll discover a set of printouts for each of the two sessions on the DVD on your computer screen. You may find worksheets and flash cards that have the character numbers on them, as well as worksheets and flash cards that allow you to practice the multiplication and division skills without the use of character assistance. The worksheets and quizzes are supplemented with a couple of entertaining activities: a crossword puzzle and a game of dice (both of which are included). The dice with cut-outs are a lot of fun!
It shouldn't take long for children to master their facts with this program. However, the book and video both encourage parents and teachers to give students time between parts one and two by using the additional reinforcements for at least a week or more. Students should also have thoroughly mastered the multiplication facts before tackling division.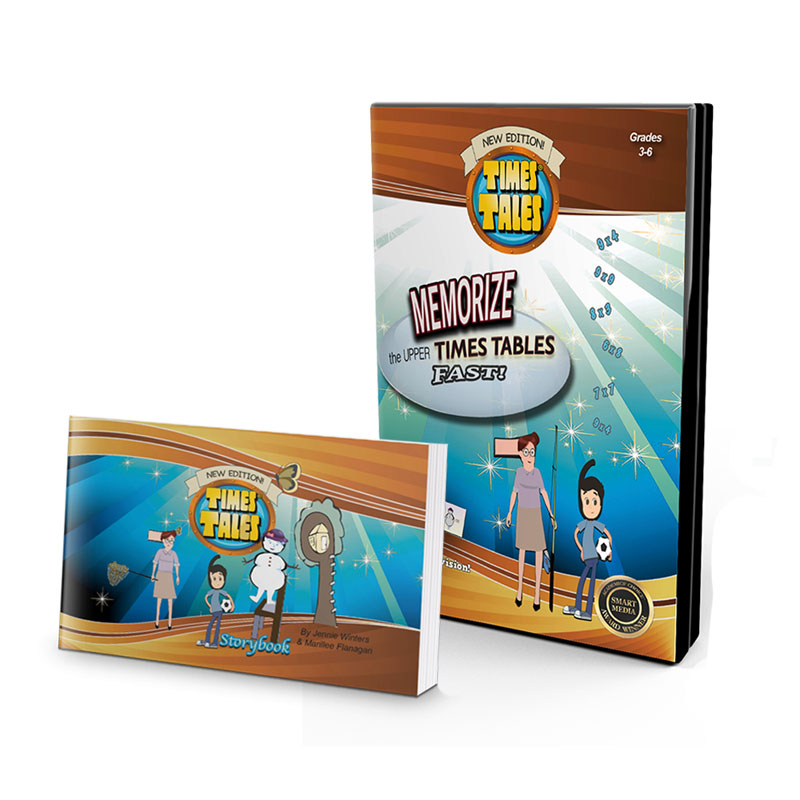 What Are the Best Ways to Save Money on Times Tales?
When it comes to purchasing something, we are all looking for methods to save money. So, let's look at several ways you may save money on Times Tales in light of this.
1
Make Use of The Discount Packages

School workbooks discount packages are available on the Internet, allowing you to save money! Each of their packages has been meticulously vetted to ensure that you not only get a fantastic value, but also a worthwhile learning kit. All of the educational tools that they provide are aesthetically appealing and encourage children to learn in an enjoyable environment! They feature bundles and kits for children of all ages in elementary school, from kindergarten to sixth grade. Your children will like the entertaining learning workbooks!

2
Investigate discount Websites and Pricing Comparisons
.

There are no longer any days when we have to manually examine many websites in order to compare rates. Price comparison websites with search options are abundant these days, making it simple to locate the best deal on virtually anything. It doesn't matter which website or plugin you use; keep in mind that the prices displayed may not include shipping, warranties or other services, and that the final price may be somewhat higher as a result.


Coupon codes are just another excellent approach to save money while shopping at Times Tales. Coupon browser extensions are available for your convenience. When you place products in your shopping cart, these plugins look for and apply any applicable discount codes for you. They'll also tell you if they discover a better deal on another online retailer's website.

Honey Amazon Plugin
The Honey Amazon plugin also allows you to create a Droplist of goods to be notified when they become available at a lower price. You'll have to be very strategic about when you do things.

Save More With Black Friday and Cyber Monday
The availability of more coupons increases during promotions such as Black Friday and Cyber Monday, which are also excellent opportunities to save money while doing your Christmas shopping online.
You should also be on the lookout for bogus vouchers that may include malicious software. Coupons with no expiration dates and coupons for free things are examples of cautionary indications. If you're still not sure, look out the Coupon Information Center's blacklist for guidance.

If you want to save money on shipping, consider curbside shopping.
Since the outbreak of the coronavirus crisis, curbside shopping has seen a significant increase in popularity. Online and offline shopping are combined in this method: you make your purchase on a retailer's website and then pick up the things yourself. It's pretty prevalent in the United States, and it's becoming more popular elsewhere in the world.
Avoid paying delivery costs and you'll save money on the total cost of your item. Select your things whenever it is convenient for you; there will be no need to worry about being home when the delivery guy comes knocking on your door.
Referral Program
Participate in the Times Tales Referral Program by Registering.
Participate in the Times Tales Referral Program and you may earn up to 15% off all Times Tales product sales. Participating in the Referral Program is a terrific way to generate more cash for your blog, website, or email newsletter. Additionally, you may generate purchases by sending an email to your friends that contains your unique affiliate referral link. Signing up is a simple process. To join up, simply go to the sign up page and complete the short form. You'll be up and running in no time.