I think that the world needs some better wi-fi options for mobile. I have used some hotspot networks before, and nothing really seemed to work for me. Trust me, I tried every top brand on the market, and nothing seemed to work for more than a few hours. The world needs something that we can use continuously, like our mobile phone data. That's when I found Skyroam, and boy was I surprised. I finally found my alternative to home wi-fi.
About Skyroam

Skyroam is a company led by inventor Jing Liu. He is a travel enthusiast, and he has developed virtual SIM technology in 2008. He has since added many products, subscription plans, opened over 500 retail stores worldwide, and has millions of customers. Skyroam is trying to change the world as we know it and get better, faster, more reliable wi-fi to everyone globally. That sounds like a good mission to me.

Shipping Information
The shipping is pretty good, and for certain countries, it's better.
Shipping Info
Shipping Info

5-12 standard shipping

Bulgaria
Croatia
Cyprus
Czech Republic
Estonia
Finland
Hungary
Liechtenstein
Latvia
Lithuania
Luxembourg
Malta
Monaco
Slovakia
Slovenia
Sweden

Fee: Pay $63.90

2-7 day shipping

Austria
Belgium, Denmark
France
Germany
Greece
Ireland
Italy
Netherlands
Poland
Portugal
Romania
Spain
Switzerland
UK

Fee: All they Pay $44
Shipping Info

2-7 day shipping

Fee: Pay $0
However, due to covid, the shipping delays of standard shipping are suspended to Australia, Hong Kong, Japan, Kuwait, Mexico, New Zealand, Philippines, Saudi Arabia, and UAE. However, Priority shipping is still available.

The Priority shipping can go from $14.90 – $119.90, depending on the country you live in.

Country Coverage
The America's South Pacific, Europe, Asia, Africa, and the Middle East are the places that you can likely find Skyroam to work.
However, some countries in these places do not yet have the signal to use the Skyroam hotspot.
Skyroam Solis X Vs Skyroam Solis Lite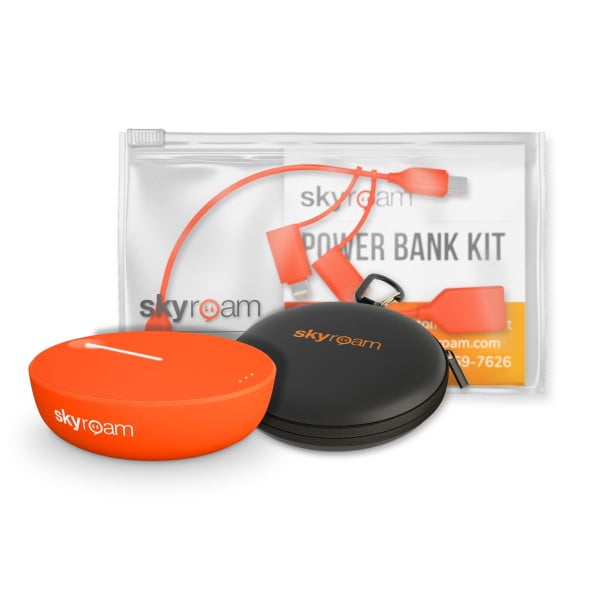 Skyroam Solis X:
The Skyroam Solis X is a brilliant device that allows you to take your wi-fi with you. Buy the device, download the app, and connect up to 10 devices to it, anywhere and anytime.
You can also use the camera on the device, use it as a power bank, and so much more.
It's a pocket-sized device that you can literally take anywhere, from your pocket or purse.
This product is $179.99 without a data card.
Skyroam Solis Lite :
With the Solaris Lite, you can easily connect to the Global wi-fi without the hassle of Sims.
You can also connect up to 10 devices, 4G LTE speeds, also are secure when using it with data protection on all of your devices, 18+ hours of battery life, and super lightweight. It can fit in your pocket.
This product only costs $119.99 without a data card.
Solis Rewards
With Solis Rewards, you are being rewarded for something you are already paying for. How you can earn rewards varies, but don't worry, we'll break it down for you. There are many ways to earn the rewards, and we'll start with creating a Solis Rewards account, which will net you 25 points.
Solis Rewards
You will also get 1 point per dollar spent. Unlimited global is $99.99 plus tax so that you would get 99 points.
Speaking of the Global Unlimited data plan, if you sign up for this plan, not only will you get the points per dollar, but the 50 points for the subscription.
You will also be rewarded 50 points for buying either the Solis X or the Solis Lite.
Renewing your Global Unlimited data plan
You will get an amazing 75 points for renewing your Global Unlimited data plan 2+ times, so if you're keeping track, you will get 99 points for purchase, 50 points for the signup, and 50 points and 75 points for the renewal of the plan.
Pretty cool, right? Well, that's not all the ways to earn rewards.
You can follow on Instagram, Facebook, and Twitter and get another 5 points each. If you refer a friend successfully, you even get 50% off your next purchase.
Renewing your Global Unlimited data plan
When You're a VIP, you can get more. If you have between 30-299 points, you will get early access to sales. If you have 300-599 points, you'll get a points multiplier of 1.25, early access to sales, and Skyroam VIP partner.
With 600 or more points, you will have all of the above, with a 1.5 times point multiplier, exclusive Skyroam VIP Specials, and exclusive access to limited time travel partner deals.
Okay, okay, I know, you're all waiting to see what you can spend those points on, right? Well, here it is.
400 points get you a 1-month global unlimited data subscription.
500 points get your 3-month subscription
600 points is 6 months subscription
300 points get you a USA 1 month unlimited data subscription
They have GB plans and Continent plans, as well as more global, go plans. Ranging from 150 points to 600+ points.
Solis Lite + 6 Months of Global Unlimited Subscription

Was: $438.99

Now: $288.00

USA Unlimited Subscription

Was: $237.99

Now: $217.99
Solis WiFi App

The Solis Wi-Fi App makes things that much easier. You can download it on the App Store or Google Play. In the app, you can find a step-by-step guide to help guide you automatically through the setup, a status screen telling you your Solis's battery life, signal strength, wi-fi status, and the number of devices connected to it. You will also be able to check out the FAQs, coverage lists, and troubleshooting tips offline at any time. The app is designed to help you get online faster, and these new features help you easily set up wi-fi, connect to wi-fi, and startup the internet at blazing speeds.

1- SignalScan™
Automatically switch to the best available 4G carrier
2- Get online faster
New features make it easy to set-up and connect to WiFi.
3- Check Hotspot Status
View battery life, signal strength, number of devices connected and more.
Account Portal
The account portal makes it easy to track what you are using, what you need, and exactly what is happening with your device and your account. If you are having issues with your device, you can easily find a solution on the account portal, keep track of your time left, GB's used, and so much more. Don't have an account yet? That's okay. The account portal will help you easily create an account anywhere at any time.

Refer-A-Friend
With the Refer a Friend option, if you refer a friend, they get 20% off their first purchase, and you'll get 50% off of any 1-month unlimited subscription service.
Customer Reviews
Most customers seem to love it, it works fast for them, and it is reliable.
The thing that they seem to love most is the efficiency of getting it in the first place.
They love the fast delivery, and while some people seem to be knocking it a little, they also seem to note that it is because they live in areas that don't have cell service, but it works great where it says it's going to work.
FAQs:
#1- Is Skyroam really unlimited?
Ans: There is a global unlimited plan for $99, and that is truly unlimited for one month. However, the rest of the plans are 20 GB or 50 GB, and the option to buy more GB's for $6 per GB. So the answer is yes and no.
#2- Is Skyroam any good?
Ans: They work amazing in places with cell reception, they don't work in the wilderness, in the air, in the middle of the ocean, and as they say, they haven't put reception on the moon or mars yet. I guess that Elon Musk is working on it. The answer is yes. Compared to other highly rated providers, they are definitely worth it.
#3- What network does Skyroam use?
Ans: 4G LTE network strength, with a VPN security.
#4- How much is Skyroam per Month?
Ans: Depending on the plan, you can pay anywhere from $25 a month to $100 a month for their plans.
#5- How do I connect my Skyroam to my account?
Ans: By downloading the Skyroam App to your phone or by signing into your account on Skyroam.com
#6- How does Skyroam hotspot Work?
Ans: It bounces off of cell towers and gets reception much as a cell phone does.
#7- Do you need cell service for Skyroam?
Ans: You should have cell service if you're looking to get Skyroam, as it doesn't work in the middle of nowhere, the middle of the sea, high in the air, or space.
#8- Will Skyroam work without cell service?
Ans: If a cell phone can't get reception, then it's unlikely that Skyroam will. It's not a satellite Hotspot. It's a tower hotspot, meaning if you're not near a cell tower, then you won't get a hotspot.
#9- Does Skyroam use Verizon?
Ans: They use every tower, Verizon, AT&T, their own, and more.
#10- Why is Skyroam so slow?
Ans: It depends on where you are or what plan you have. Answering the former first, if you are near the middle of nowhere, barely able to see land, or just taking off in an airplane, you definitely will see slow speeds until it stops working. You will also run it slow if you are surrounded by mountains or anyplace that there are no cell towers.
To look at it another way, if your cell phone has two bars, it runs a bit slower, right? Same with the Skyroam networks. The latter is running out of your GB, it will run fast until you use up the set amount of GB's, and then you will have prolonged internet speeds until you can fill it again.