Curious? Let's get right to it.
What Does PurO3 Do?
When it comes to the world of organic skincare care products, PurO3 stands second to none. PurO3 is at the forefront of providing certified organic ozonated skincare products. PurO3 oils are rigorously ozonated to ensure optimal safety, preservation, and purity, thus being unrivaled.
PurO3 focuses critically on ensuring the organic oils are produced to uphold all safety by packaging in glass containers. The practice eliminates the leaking of any foreign materials into the oils. You can rest assured that the final product shipped directly to you has undergone rigorous purity and safety tests.

What Are the Products Offered By PurO3?
PurO3 has a comprehensive catalog of products that include;
Organic Ozonated Oils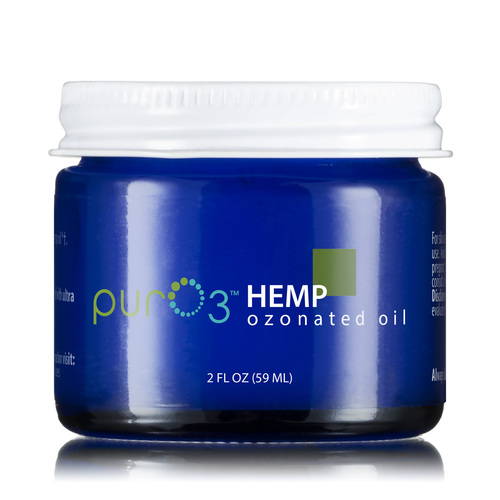 This line carries a comprehensive list of all ozonated organic oils for skincare, ozonated oil suppositories, and dental use.
Full-Spectrum Hemp
For this category, the oil is made from a high-quality extract from industrial hemp. This line has steady growth and ranges from products such as tinctures and suppositories to Facial Serum and Menstrual Relief.
PurO3 Samples
PurO3 offers myriads of items to choose from should you want to get a feel of the samples. For this reason, they avail the samples from full-spectrum hemp balm, ozonated oils, and suppositories.
EDTA
EDTA plays a vital role in the body's ability to perform excretion. EDTA is known for its ability to make heavy metals bind to itself; thus, by doing so, the heavy metals are excreted from the body. The whole process is made possible with the help of vitamin C. Its function is undoubtedly a critical aspect that enlighten us on its role in our production.
Probiotics
For this category, PurO3 offers probiotic suppositories that include some essential strains in organic cocoa butter. Rendering the body with a relatively high rate of absorption, playing a fundamental role.
Beauty
Beauty is arguably one of the most noticeable results of well-taken care skin; and is enhanced by the use of natural beauty oils, which revamp your skin regimen. Notably, the skin products are made free of harmful ingredients, preservatives, and fillers.

How Are PurO3 Ozonated Oils Made?
It is well to ask yourself how these ozonated oils are made to achieve the claimed purity and safety tests.
Ozonated oils produced by PurO3 are made through electrically charging pure oxygen; by using activated oxygen, also referred to as ozone. The process involves directing oxygen through the charged tube.
In this process, pure oxygen(O2) transforms to pure ozone(O3), where the name PurO3 originates from. Next is where the fun begins.
The process usually involves directing the activated oxygen through raw oil, resulting in an ozonated skincare oil product.
Ingredients Used in PurO3
For PurO3 to produce superior and high-quality skin and body care products, it uses the purest form of naturally occurring Oxygen; the activated oxygen referred to as Ozone. Ozone, known for its prowess in fighting bacteria and pollutants, thus gaining its popularity in the purification process in food production industries.
Some of the essential ingredients used in the production of ozonated oils include;
Olive oil
Coconut oil
Hemp oil
Castor oil
Avocado oil
Jojoba oil
Sunflower oil
Does PurO3 have Flavors?
Absolutely yes! PureO3 offers a variety of flavors, for example, in tooth and gum products. The essential flavors that are used are;
Organic Peppermint
The peppermint flavor helps control mouth inflammation; thus, its wide acceptance in skin cream and beverages and foods production.
Organic Cherry
The benefits of cherry span across several fundamental areas in the human body. Known for its ability to reduce inflammation, to providing minerals such as copper and potassium.
When used as a flavor, it is used in safe portions that cannot stain your teeth.
Organic Stevia
Stevia, derived from the stevia plant, is a safe sweetener backed by research and has zero calories. It is known for its ability to prevent the rise of plaque and bacteria in teeth.
More so, stevia contains essential minerals in the likes of vitamins A, B, and C. Due to its sweet taste, stevia is thus used as a flavor option.
Placing An Order
To make a purchase, visit the PurO3 website and experience a seamless online purchase experience. Simply select your items and add them to your online cart.
Order Now:
PurO3 accepts credit card and Paypal payments.
More so, free US shipping for orders above $49 is offered.
Their products are backed by a refundable policy of a 30 day 100% satisfaction guarantee.
Some of the products that are not eligible for return are complimentary samples.
Giving Back To You
Having an account at PurO3.com earns you points for every dollar you spend. You can later turn these points into discounts; for example, you get one free when you purchase a jar of Ozonated Olive Oil!
Is there Customer Service on the Website?

Absolutely yes! PurO3 offers personalized customer service to each of its clients. They provide real-time support, ensuring a satisfactory customer experience. PurO3 is customer-centered, aiming at getting your absolute feedback after every interaction.

How to Get in Touch
Have a question or inquiry? You can reach PurO3 through their website on the "Contact Us" section by writing an email or through their phone numbers. One of the team members will gladly guide you through all areas of the products.
Conclusion
Skincare and safety are vital and should be upheld with the utmost sincerity. Having been in business and building a reputable name over the years, PurO3 is at your service, providing dedicated, certified, and pure supplies of organic ozonated oils.