Best seller
Krave Beauty Review: YouTubes Darling Creates Simple Skin Care
The beauty industry is crazy. There are thousands upon thousands of products, with someone always pushing you to try the newest and best. Reviews are abundant, and you never know what you should or shouldn't trust. It's hard to tell who's a paid sponsorship and who's just talking about the product.
YouTubers are one of the go-to marketing platforms for most beauty products. However, there are also YouTubers out there that truly want to make a difference. I have seriously struggled with my skin since the time I was in middle school. From severe acne problems to dry patchiness, you name it, I've had to figure out how to deal with it. Because of that, I've tried more skincare hype products than I can count.
Regularly a new product would seem to be working only to end up doing more damage than good. A cleanser that was great for the first few days but left my skin completely dried out, or a moisturizer that left my skin oily and feeling like I'd slept in a deep fryer. So, when a YouTuber I already liked with over a million subscribers launched a product, I sat up and took notice.
I jumped on the Krave Beauty products as quickly as possible, and even though I was hopeful, I wasn't expecting much. After all, it was just another YouTuber putting out another beauty product, or so I thought.
These days skin care products seem to come with dozens of serums, cleansers, lotions, and potions and require you to do 25 steps before you can go to bed. I don't know about you, but I don't have that kind of time to invest in my skincare routine. That's one reason I was so excited to try Krave Beauty products. They promised to break the mold on what was being done with skincare and offer something simple that wouldn't take up what little spare time I had at night.

I was really surprised when I got the products by just how simple they were. I started off with the core products. Two, yep, you read that right, two products. A Cleanser with hydration and a cream moisturizer. I put away all the other overpriced, overhyped beauty products I had and decided to try nothing but the Krave Beauty products. I'm never going back. I spend less, especially with their great deals, and my skin is happy and healthy.
What And Who is Krave Beauty?
Krave Beauty is a brand of skin care products developed by Liam Yoo, a YouTuber with over a million subscribers. It was founded in 2017. With years of experience in the beauty industry, she wanted to create something better and easier than the options she found. Feeling like the industry overwhelmed consumers, she wanted to do something different, and their motto became press reset.
Her videos always focused on dealing with difficult skin issues like acne or sensitive skin. The longer she was on YouTube, the more her channel became educational. She wanted to share with her viewers what she was learning about the beauty industry. She became known for doing frank videos to demystify the beauty industry and all the skin care problems that come along with it.
That interest in sharing with the people turned into wanting to create something that, as the company slogan goes, would press the reset button on your skin.
The idea is to give your skin what it needs instead of everything the industry tells you to use.
They are a vegan-friendly company as well as cruelty-free. All the products are free from added fragrances or colors, which often cause problems for people with sensitive skin. They only produce a handful of products because, in reality, that's all your skin needs.
Reasons to Choose Krave Beauty
One focus of Krave Beauty as a company was to be simple and transparent, with minimal products that worked. Sure, profit is involved, but unlike most beauty industry businesses, they aren't creating and dropping new products every quarter just to boost the bottom line.
Instead, they offer the basic products most skin types need to be healthy. Vegan products are hard to come by in the beauty industry, and though you'd think all products would be cruelty-free, it's simply not the truth. They offer both of those things.
New to skincare or just frustrated with the unending onslaught of advice? Then this is the right company and products for you. The underlying motivation for the entire company is to provide the necessary skincare products without all the complications and excess in the industry these days.
From The Mouths of Customers
It's easy for a company to fake their own content, but when you can find great reviews on other sites, that's when you know the product has value.
1- "I've been using Krave for the past few years, and overall, I really do like them! My skin is currently normal/combination (previously oily/combo), acne prone, mild rosacea along the jawline, and can get a little flaky in the winter on my cheeks and forehead.
2- "The Great Barrier Relief is a superstar HG for me – it really calms down my skin if it's angry about anything (over exfoliation, flaky, mild sun irritation, not liking some other new product, etc), tones down the rosacea, and really helps hydrate and nourish and strengthen my skin barrier. GBR is an absolute must for my fall/winter skin routine and more occasional during spring/summer. It's great in the winter to help deal with how dry my skin can get from indoor heating/low humidity along with cold winds. In the winter I use it morning and night; summer I usually just use it in the evening. One bottle lasts around 5 months using 1.5-2 pumps/use.
3- "Matcha Hemp Cleanser: I was put off a little bit by the jelly texture in the beginning, but I came to really like it. I do like how it does a good cleanse without stripping my skin – my face feels normal and balanced after I'm done. In comparison, my skin feels tight after I use the Laneige cream cleanser. The cleanser lasts a decent amount for me as well – around 5-6 months? User u/raindropskies on Reddit.
4- "The Hemp Matcha cleanser is the only one I'll use! I'm super prone to breakouts, and this has been the perfect, gentle cleanser to keep my skin calm. This has quickly become a product I can't live without. The Kale Exfoliant is the first one I've ever used that Hasn't stripped my skin while still being effective. The Great Barrier I use a couple times a week. It relief feels moisturizing and purifying. While it does have A strong smell, I don't mind it. Recommendation from Jason Sasha Ewbank on Facebook.
5- "The Great Barrier Relief is absolutely amazing. The cold winter damaged my skin so badly that nothing helped. I found out about this product and wanted to try it immediately. Within LESS THAN 1 WEEK my skin is already absorbing moisture and looking healthy again. Definitely recommended, this is my new HG.Nadhila Savirta, Trustpilot review.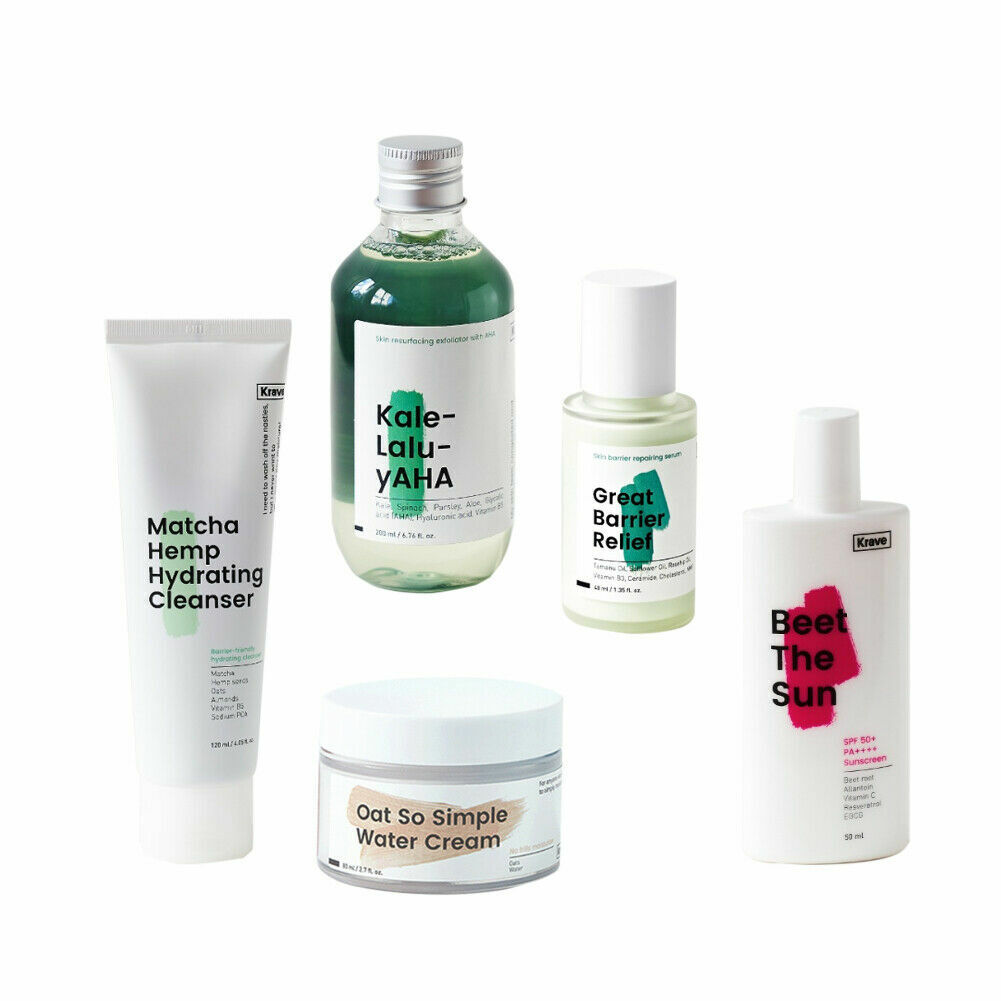 The Products
Krave Beauty does something that almost no other line has thought to do. They've cut out the excess. They sell their products in two lines, the Core Series, which consists of two products, and the Supplement Series, which only has four products right now. They've updated and changed the supplement series over the years. Though they keep the products simple and limited to the basics.
1:1
Matcha Hemp Hydrating Cleanser
When compared to other high-end influencer-created cleansers, this one is a steal.
The Matcha Hemp Hydrating Cleanser makes up their base product. It's loaded with antioxidants and designed to remove the daily dirt from your skin and environmental debris but not strip it like most cleansers. It's gentle so that you're not drying out your skin.
Skin also naturally has a barrier that protects it from damage and keeps it hydrated. Most cleansers are so rough that they completely remove that layer each time you wash it, leavening your skin severely dried out and unprotected.
As someone with sensitive acne-prone skin, this is critical. My face needs to be clean, but if it's too harsh, it takes every drop of moisture out with it. So, I was thrilled to learn that the Matcha Hemp Hydrating Cleanser lived up to the hype.
It works so well because it's got simple but powerful ingredients. First on the list is where the name comes from. This skin care cleanser actually contains matcha, and that's because it's loaded with antioxidants.
You might be surprised to learn that green tea and matcha are the same plant; they're simply cultivated differently. We've known about green tea's immense benefits and strong antioxidants for hundreds of years. There've been countless studies on green tea and overall health. Still, the beauty industry has recently noticed matcha cultivation for skin protection and benefits. A recent review of multiple studies suggests many benefits from the green tea plant, from improving dermatitis to acne.
Hemp seed oil is next on the ingredient list, and it's known for its ability to hydrate the skin and adds essential amino acids. Hemp-based products are becoming increasingly popular. Studies have shown that it not only has a moisturizing effect but may also help to control oil production. More so, it's been shown to benefit those dealing with eczema.
The next primary ingredient used is Vitamins B5, a common ingredient for hydrating cleansers but a great extra boost in combination with matcha and hemp.
Cost: $16.00 for 4.05 Fl Oz
1:2
Oat So Simple Water Cream
The only other product in the core series is the Oat So Simple Water Cream.
Water creams are a slightly different type of moisturizer than a standard facial cream for those who have never tried them. Moisturizers trap existing moisture and help improve the skin's natural barrier. On the other hand, water creams are water-based and absorb into the skin to increase the moisture level. Water cream deeply moisturizes in a way that other creams cannot.
The texture of these may be surprising to newcomers, as well as they have a non-sticky but gel texture. This makes them feel much lighter than more traditional moisturizers. One thing to note is that the nature of the naturally-derived ingredients they use may change textures slightly from batch to batch. If your second jar is somewhat different, don't stress over it. It's perfectly normal.
The name comes from the oatmeal extract used for its calming and therapeutic properties.
Products with oatmeal have been used to help restore moisture, calm irritated skin, and improve the natural skin microbiome that protects us from the sun's damaging rays. Studies have shown oatmeal can be effective for helping to calm irritated skin as well as help rebuild natural protection.
This is perfect for those who have sensitive skin, as its simple formula makes it calming and less likely to cause unwanted reactions.
This product is perfect for a daily moisturizer, especially for anyone with difficult skin.
Think of these foundational products as the absolute bare minimum care you should use on your skin. Using just the cleanser and the water cream for my daily routine has immensely simplified my life.
Cost: 28.00 for 2.7Fl Oz
Transform Your Skin
The next product line they offer is all supplemental to the Krave Beauty Core Series. That's because they, like any other "supplement," are used in addition to your basic skincare regime.
2:1 Makeup Re-Wined
First up in the supplement section is the Makeup Re-Wind. They call it a transforming Jelly Oil Cleanser. Makeup Re-Wined is a unique spin on a makeup remover.
Makeup Re-Wined is a deep cleaning formula perfect for when you've got heavier makeup on from a night out or lots of sunscreen for protecting your face while you're on the beach.
Again, the texture may take you by surprise for those new to natural skin care products. This is a jelly, and it even jiggles. Like a balm oil cleanser with the heat of your hands, it becomes a smooth oil you can use to clean even the most difficult makeup off your dry face. Then, add a bit of water with your hands to turn the oil into a milky cleanser to finish washing your face.
It's designed to take off even the most difficult makeup challenges like that waterproof mascara you love or even the siren-style eyeliner that seems to be forever. Highly pigmented shadows in reds, black, or neon, are no problem for this advanced multi-stage cleanser.
Cost: $25.00 for 3.38 Fl Oz
2:2 Kale-Lalu-yAHA
Okay, so the name might be a little much, but this is an exfoliant that won't destroy your skin.
Kale-Lalu-yAHA is an AHA-based exfoliator with Glycolic Acid at 5.25%. Glycolic Acid is an alpha hydroxy acid. This product has a pH of 3.5-4.0, making it strong but not over the top. It's one of the most used anti-aging agents, and for a good reason.
AHAs have been shown to help cellular renewal, according to an article from the Department of Pharmaceutics, Nanotechnology Research Center, and Faculty of Pharmacy, Ahvaz Jundishapur University of Medical Sciences. They've also been found to help lighten age spots, help with breakouts, encourage natural hydration, and give overall softer skin.
This is one of those products you only use once or twice a week for the best results. It's a lower acid content than other options on the market to help protect the natural skin biome.
Next up in the ingredient lineup is the first part of this product's name. Kale, it's good for you and you don't need to eat it this time.
When you're exfoliating, it's important to have ingredients that help boost and replenish your skin simultaneously. In Krave Beauties Kale-Lalu-yAHA, the antioxidants and vitamins derived from Kale does just that.
Kale contains vitamins C, B, A, and K, along with more necessary antioxidants. With long-term use, vitamin C can help protect from UV damage and smooth wrinkles. One study published in the Indian Dermatology Online Journal showed that it works as a depigmenting agent and can encourage collagen production. It also points out that Vitamin E can improve the efficacy of vitamin C.
It's a mid-priced exfoliant with all the right ingredients. Strong enough to do the job but not so acidic that you'll be red for a week.
Cost: 25.00 for 6.76 FL Oz
2:3 The Serum You Need (Great Barrier Relief)
This is probably their most talked about and most loved product. It's been featured in many YouTube videos apart from the creator's product breakdown.
Great Barrier Relief is their best seller and most popular product. It's a serum that aims to provide relief for sensitive skin. Often cleansers and other products we use disrupt the skin's natural barrier that helps to protect it. The Great Barrier Relief serum uses ingredients that help to restore the skin's natural protectant.
One of the main ingredients in this product is tamanu oil. This oil contains Calophyllum inophyllum and comes from an evergreen tree that grows along the sea. It's got healing properties, including, as one article points out, anti-inflammatory and antioxidant effects.
Next up, we have niacinamide, a fairly typical ingredient for skin care. One article in the Journal of Clinical and Aesthetic Dermatology points out that niacinamide can repair the skin barrier. It can also improve skin moisture, help with acne, and even the skin's surface and tone.
Honestly, if you're going to add one product on top of the core series, this is the one I most highly recommend.
Cost: $28.00 1.52 Fl Oz
2:4 More Than Just the Face (Great Body Relief)
Last up from their supplements line is the Great Body Relief. As the name implies, this is for your whole body with the same relief and repair style as the above serum.
Like me, I bet you've looked for the perfect body lotion for years. Even though hundreds of new lotions have come on the market, there is always a problem. Well, you are in for a pleasant surprise regarding Great Body Relief. It's a lightweight, affordable, and nourishing body lotion.
It uses skin conditioning oils that absorb rather than leave behind a greasy layer.
The rest of your skin needs the same TLC that Krave Beauty offers for their face products, and this was the perfect answer. Like your face, the rest of your skin should also have a natural barrier to protect it from the sun and pollutants. Unfortunately, it's often destroyed by harsh cleansers and neglect.
Great Body Relief is designed to help encourage and nourish that natural barrier back to a healthy condition.
Ceramides are fatty acids that help to moisturize and protect the skin. As we age and if we neglect our skin, these fatty acids can be lacking. Great Body Relief helps restore those fatty acids, which comprise a huge percentage of the natural skin barrier.
Like the Great Barrier Relief serum, it also contains the primary ingredient, tamanu oil, which, as we know, helps to moisturize even tough skin.
The primary difference between the two products is that the lotion is for all over your body and has a much lighter feel and a softer natural scent. It might be last in the product lineup, but it isn't the least. Absolutely one of my go-to daily use products.
Cost: $25.00 for 6.76 Fl Oz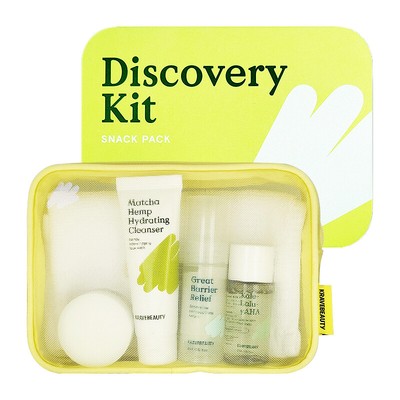 Pros & Cons
PROS:
Reasonable Prices
High-Quality Ingredients
Science-Based Formulation
Great Customer Feedback
Easy To Use
PETA Certified Cruelty-Free
Environmentally friendly
CONS:
Small Product Selection
Limited Availability
Sells Out Often
Who Is Krave Beauty Right For?
Krave is designed really for nearly any skin type. Normal skin types will benefit as much as those with sensitive skin. However, those with acute or troublesome skin often have difficulty finding the appropriate products that match that description.
They're free from any extras like unnecessary fragrance oils or dies. If you're also concerned about sustainability and the environment, you'll be happy to know that this is an excellent product. They even have recycling instructions in their product descriptions for the containers. They are constantly trying to ensure they lower their carbon footprint.
A visible portion of each purchase also goes to a charitable foundation. For example, if you buy the Great Barrier Relief Serum at $28.00, they'll donate 0.28 cents to the Women's Earth Alliance. So you can feel good about your shopping habits at Krave Beauty.
How to Buy Krave Beauty
Krave Beauty sells only through their website. They've aimed to stay direct to consumers to help keep their prices low and lower their environmental impact. Though you can find their product through other retailers occasionally. It's always a third-party seller making a profit for themselves, meaning you'll pay more for a product you can't trust. You risk buying a fake product if you go anywhere but their website. If you're really interested in the product, in this case, I'd recommend purchasing directly from the company to get the best prices and customer service.
Top 3 Ways to Save On Krave Beauty Products
I'm always looking for a way to get the best deal on the highest quality of products. Krave Beauty qualifies for quality, so I searched for the best discounts to share with you. However, they do not offer sales. They've gone out of their way to ensure regular prices stay as low as possible. But just because they don't have sales doesn't mean there aren't ways for you to save.
Subscribe and Save
First up is their subscription program. Krave Beauty offers a subscribe and save program. The discount is 5% off their already affordable products. You can have a delivery every one, two or three months. This one's an easy save, and if you change your mind, just be sure to cancel before your next delivery order. It's also great if you're like me and often forget to place an order before you run out of your must-have skin care products. My order arrives regularly without e having to do anything, and I love it; the 5% discount is just the cherry on top.
Bundles
Even though they don't do normal discounts or sales. What they do offer are other ways to save. Bundle deals are one of the current ways they offer their products at an even more affordable rate. For example, you can find the Barrier Friends Forever Bundle, which contains the Great Body Relief and Great Barrier Relief for only $50.00, saving you $3.00 off the individual products. Of course, keep an eye on the website as they occasionally make product changes and update options.
Snack Pack
Last on our savings list is a limited-time smaller size set available that's perfect if you want to try the products without a heavy investment. It contains smaller versions of the products, including The Core Products and small sizes of the Kale-Lalu-yAHA exfoliant and the Great Barrier Relief serum. It is packaged in an adorable little lunchbox and contains a small pouch, notecard, and a cotton face towel. This package deal is fantastic for those wanting to test the products or for dedicated customers who want a travel-friendly set. This neat little starter set will only set you back $24.00, and you get to try most of the products.
Final Thoughts
The cute names, the clean packaging, and the pension for environmental awareness and sustainability draw customers into Krave Beauty. The product quality, great ingredients, and simplicity keep you coming back. Overall, Krave Beauty will probably always be one of my go-to products. They are a no-frills beauty company in an industry that seems to depend on making things more complicated than necessary. If you're looking for products that offer a straightforward way to take care of your skin, as we all should, then Krave Beauty is the right company.
FAQ
Are Krave Beauty Products Cruelty-Free?
What about Vegan Yes. All Krave Beauty products are PETA-Certified and Vegan and are 100% cruelty-free. They do not believe in testing on animals or using animal by-products in production.
The primary site for Krave Beauty ships to the U.S., Canada, Australia, New Zealand, Singapore, India, Malaysia, and the Philippines. They have a secondary website for orders from
South Korea
.
Are the products gluten-free?
Not all the products are gluten-free. It's always important to check individual ingredients. They say that the, Oat So Simple Water Cream is made with pure oats, and pure oats are gluten-free. But if you have allergies or intolerances, be sure to go through the ingredients list.
Are there other ways to buy?
They have no authorized resellers. They are not responsible for the authenticity or safety of products bought in other locations. They also will not honor any guarantees or customer service policies if you purchase an item from a third party.
Eyelash extensions and Makeup Re-Wined
If you use eyelash extensions, do not use the Makeup Re-Wined product unless you are trying to remove the lash adhesive. It's designed to take off the most stubborn makeup and may take your lash extensions off.
How long do the products last?
The products are good for 36 months after their manufacturing date. Open products should be used within a year of their opening date. It's also important to keep your products in a cool, dry space and seal them. Using clean hands when touching the product is also recommended.
Where are the products made?
Manufacturing is handled in Korea and tested against the highest possible standards for safety and efficacy.
Each product has an individual ingredients list that is available, just like their descriptions on the website.
I broke out after using Krave Beauty. Now what?
Sometimes if you start a new beauty routine with any product, you can break out from the change. It's always best to stop product use temporarily if you are having a reaction or breakout. Give your skin some time to calm down and start over but introduce the products slowly, a little at a time, so your skin has time to adjust.
Subscriptions are only available for US Customers.
Subscriptions go out via standard shipping. If you move, you can edit your address at any time in your account settings.
Be sure to save changes and update before your shipment date.
There are no cancelation penalties, and you can cancel at any time.
It's all done on the accounts page. However, you can also skip or change the date of your next subscription instead if you'd rather.
To help stop resale, there are limits on orders. Max total of $350.00 only five of each product and seven items in total. If you have further questions, you can always reach their customer service by email.
If you receive a damaged product, emailthem as soon as possible, and they'll take care of any problems. Be sure not to throw anything away as you'll need photos.
Krave Beauty accepts all major credit cards for payment. They also take a variety of other options, including
PayPal
Google Pay
Apple Pay
and Amazon Pay.
They are also able to accept prepaid visa gift cards.
Krave Beauty, to help reduce its environmental impact, does not take physical returns. They do, however, offer refunds on an individual basis, depending on the circumstances.
Suppose your products arrived damaged or defective in some way. In that case, they take responsibility for that and will send you a replacement rather than ask you to return anything.
However, suppose you're dissatisfied with your order for some other reason. In that case, they ask that you simply reach out to the customer service department within thirty days of your delivery. They'll do their best to offer you some sort of resolution.