Where do you draw your sentimental value? While some people draw theirs from food or money, the smarter ones find it in quality jewelry. So, what exactly is quality jewelry? Simply put, it is jewelry made with a touch of perfection and finest style. This type of jewelry is not found just anywhere. If you are looking for an accessory for a special occasion, a worthy investment, or a valuable gift to impress your special one, shopping for the right jewelry is imperative.
Before investing in jewelry, always find out what the piece is made of, its durability, and the value for money you derive from it. Let's start you off with what you can expect to find at our stores and everything else you need to know about top-grade jewelry.

What is Inspired Silver Jewelry Made Of?
Our jewelry is made only from the finest raw materials to enhance its durability, attractiveness, and overall quality. As such, you can always be sure you are getting your money's worth each time you buy from us.
The four key raw materials we use are:
Cubic zirconia is a synthetic stone extracted from zirconium dioxide's cubic crystalline form. It is colorless and may also be extracted naturally, although very rarely.
Our cubic zirconia stones are all lab-made to give your jewelry that beautiful diamond look and quality. We use these stones in nearly all our jewelry to improve their aesthetic appeal and boost their durability. This also makes our jewelry relatively cheaper as compared to other brands.
Because of the stone's color and shape variety, our jewelry is creatively customized to align with different fashion tastes and trends. We always have something for everyone.
We use white metal as a decorative base on all our silver-plated jewelry. We prefer white metal because it is polishable and castable with the finest customizations.
This is another decorative metal alloy that we inject into our jewelry to afford you a stylish and sparkling piece. It contains 92.5% silver; hence the name. The remaining 7.5% contains other metals that add to the strength of silver to produce long-lasting jewelry.
We always rhodium-plate our jewelry to boost its lifespan and enhance maintenance. Rhodium is a form of white metal that when applied to a piece of jewelry, prevents it from tarnishing. So, you never have to worry about scratches with our jewelry.
What Are Our Main Jewelry Products And Features?
One thing that naturally stands out about our products is their special crafting from high-end material and the quality finish applied to suit a diverse fashion sense. Check out the main jewelry categories.
Rings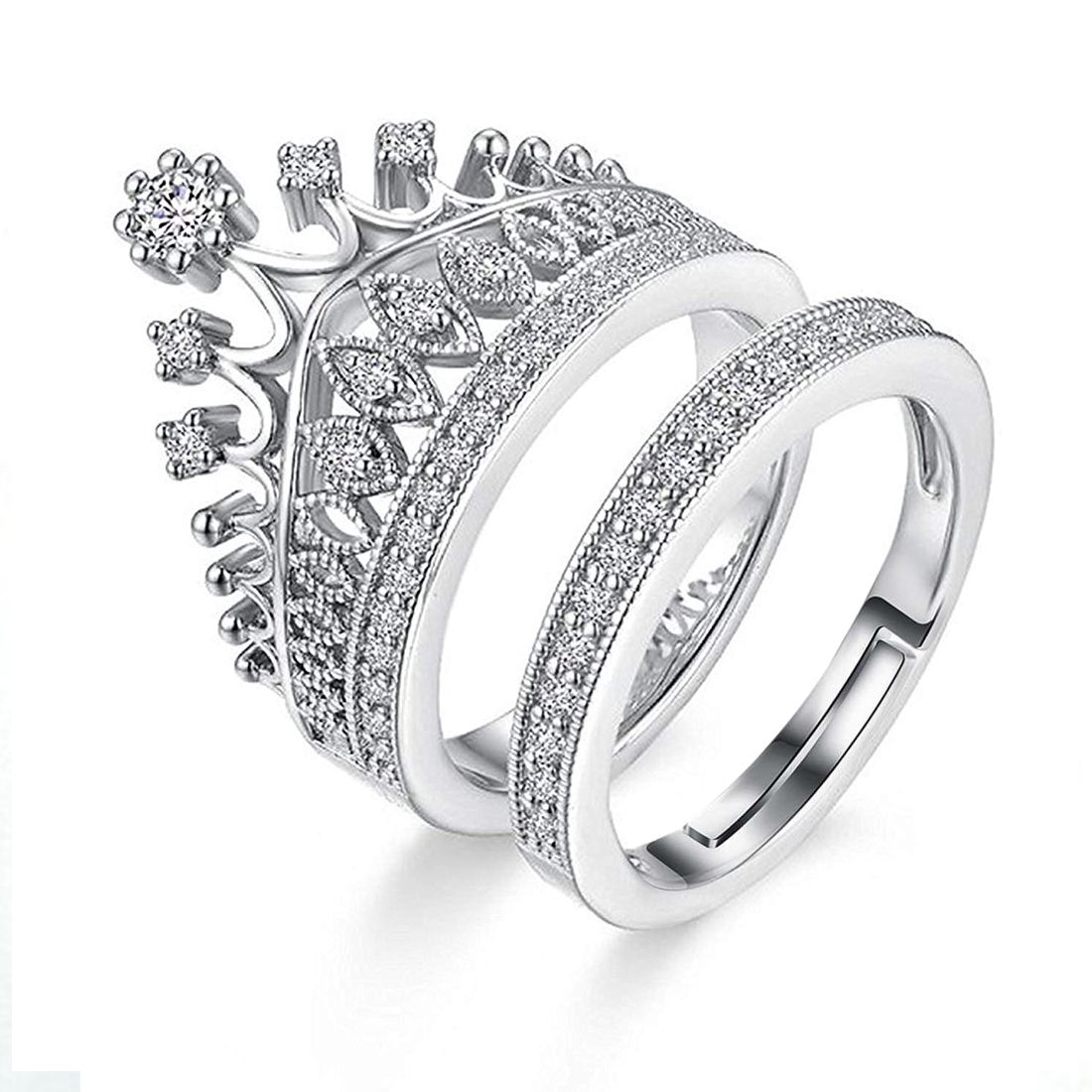 As opposed to traditional gemstone and diamond engagement rings, our cubic zirconia rings are more affordable. What's more, their shine and sparkle resemble that of a real diamond ring.
Therefore, this is the ideal ring choice for couples on a strict budget but are more inclined toward a classic colorless look on their fingers.
Necklaces
Our wide-ranging necklace types include classic, toggle, bar, as well as dog tag necklaces. Classic necklaces are equipped with a stylish lobster claw clasp and a charm crafted from a white metal with a silver-plated finish and accented with zirconia stones.
The toggle necklaces come equipped with a stylish toggle clasp and a charm made from white metal with a silver-plated finish and in some instances accented with cubic zirconia stones.
The stylish bar necklaces also come fitted with a lobster claw clasp and a bar charm made from white metal with a silver-plated finish.
Dog tag necklaces come with a sparkling finish equipped with a stylish ball chain connector clasp and tag charms. The tags can be customized for your favorite tagline. They are made from stainless steel with a specially polished finish to enhance their beauty.
Bracelets And Charms
We specialize in a wide array of bracelets including braided, toggle, wire bangle, wrap, bangle, and adjustable bar bracelets. They are all crafted from white metal and plated with a silver finish.
However, some like the toggle bracelets are further accented with cubic zirconia stones. Our main charm jewelry is the memory charm that comes in different designs and sizes.
The sparkling memory charm is fitted with a stylish charm attachment ring and crafted from white metal with a silver-plated finish and accented with cubic zirconia stones.
Earrings
Our dangle earrings come with a sparkling and stylish French hook backing. They are equipped with different charms to suit a customized look.
The main charms in our earrings include the square charm and the pave heart charm that are all designed from white metal with a silver-plated finish and a cubic zirconia stones accent.
Officially licensed Jewelry
We only deal with officially licensed jewelry. We thrive on your wildest imaginations and passion to keep producing only the finest jewelry. Whether you want to customize romance or simply show solidarity to your team, our officially licensed jewelry ushers you into the world of all possibilities. Walk with pride everywhere you go with our specially crafted bracelets, rings, necklaces, earrings, and charms. All at extremely pocket-friendly prices at
inspiredsilver.com.
What Are the Benefits And Downside of Using Cubic Zirconia Atones in Our Jewelry?
Benefits
Lowers the price of the jewelry
sharply Striking resemblance to real diamond
Augments the sparkle and shine of the jewelry
Boosts the longevity of the jewelry
Enhances the jewelry's overall market value and quality
Downside
The only downside of using cubic zirconium is the fact that continued scratches may affect the jewelry's sparkle.
The wonderful news is that if you subscribe to our Jewelry of the Month Club, you gain access to some of the most mind-blowing discounts and coupons you have ever seen in the jewelry marketplace.

FAQs
Q#1- Is Cubic Zirconium a Cost-Effective Ring Material?
Yes, it is. Compared to diamond rings, rings made from cubic zirconium are cheaper yet with the same diamond aesthetics and almost similar quality.
Q#2- How Should I Care for Cubic Zirconium Jewelry?
While cubic zirconium is a great quality jewelry material, it is not nearly as hard as diamond. Such jewelry should be handled with extra care. If possible, completely avoid chemical, water, or perfume exposure to avoid any deterioration of quality.
Q#3- Can I tell the Difference Between Cubic Zirconium And Diamond Jewelry?
Yes, you can. Simply place the jewelry under natural light. Diamond jewelry produces a whiter light whereas cubic zirconium jewelry produces a somewhat rainbow-colored light.