I don't know about you, but I love having a wall calendar, desk calendar, and a day planner that help perk up my day. I use the calendars in my office space, kitchen, bedroom, and even in my basement. Keeping a calendar handy makes life so much easier by helping keep track of not only the date but also important events on those days.
For Example
I use my basement calendar to keep track of my exercise schedule and this helps me stay on track with goals. The one hanging in my bedroom helps remind me of important holidays first thing in the morning, as I'll make a note on there from time to time as a reminder. The calendar I keep hanging in the kitchen is where I plan my family's weekly dinner plans and also groceries that need to be purchased.

I not only use a calendar, but I also carry a day planner, which I call a life planner because I will lay out the whole year if it is possible. The best part about the calendars and planners I've mentioned is the awesome pictures that are in the calendar.
The images bring happy feelings to my soul. I buy my items at calendars.com because there really are an immense amount of categories and options to find a calendar that makes me happy. I mean, I have to look at these calendars and planners every single day, so I want the pictures to be awesome in them.
Calendars.com has a ton of categories to look through and find the perfect item. Artwork, cars, flowers, food, humor and comics, movies, TV, music, models and pinups, babies, pets, wild animals, pop culture, fashion, science, history, religion, inspiration, sports, travel, scenic, interesting and weird are all categories to dive into to find really cool photos for a calendar or other product.

About Calendar.com
Retail Group is the parent company of calendars.com and was founded in the year 1999. Calendars.com is the number one source for calendar offerings throughout the entire world. There are over 10,000 products to look through and find something that is perfect.
The company sells more than just calendars, also offering goys, games, gifts, and puzzles. Incredible high-quality images are what sets calendar.com apart from the competition. Although calendars are at the forefront of sales for the company, each year the other items for sale have been growing each year.
Many famous artists' works are featured on the site for sale. Thomas Kinkade, Linda Nelson Stocks, Lowell Herrero, Mary Engelbreit, and even Charles Wysocki are all world-renowned artists who are available for placement onto calendars and other products, and a great number of other artists are featured.
Artists are not the only ones featured on the site. Famous musicians have worked with calendar.com to license images for calendars. A number of famous musicians are available such as; Ed Sheeran, Billie Eilish, Taylor Swift, The Beatles, Elvis, and many more. Famous TV show characters' images are also available to be placed on many puzzles, games, and calendars. Calendar.com has licensed over 65 games for sale and if you don't like games, well, there are over 500 puzzles available with new puzzles being added every day.
Products Features And Prices
With such a massive collection of items, there is certainly something for everybody to enjoy. Prices vary greatly, and prices are reflected by the choice of item.
Heart & Home 2022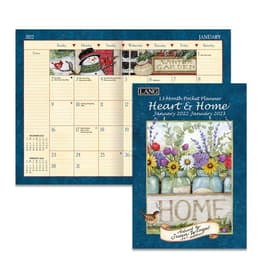 The Heart & Home 2022 Special Edition Wall Calendar shows joyous pictures delivered in a cartoonish fashion, and this calendar is priced at $17.99.
National Parks 2022 Wall Calendar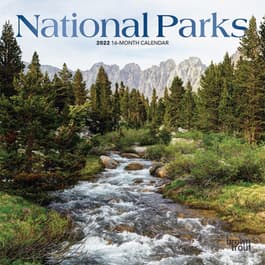 If nature is something you can't live without, try the National Parks 2022 Wall Calendar which features majestic national parks throughout the United States.
Retro Mama 2021 Pocket Wall Calendar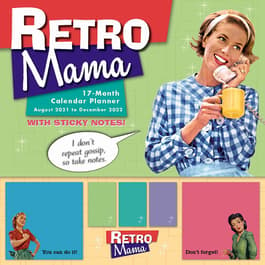 I know I need to have a personal pocket calendar to help keep track of tasks throughout the day and the Retro Mama 2021 Pocket Wall Calendar is perfect for this and it only costs $6.99.
The Stow and Go Puzzle Mat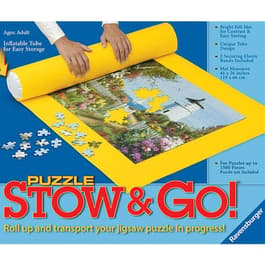 The Stow and Go Puzzle Mat is a great gift for a person who loves to complete puzzles and needs to roll up their puzzle regularly, priced at $20.99.
The Office Clue Game
Games are so much fun when the pictures in the game are characters we love, such as The Office Clue game priced at $39.99.
Prices vary greatly depending on the item desired, however, there are price points across the site to keep everybody happy.

Discounts And Coupons
I have found many great deals on calendars.com over the years. Sometimes, I can find a coupon that helps save money as well. Currently, at calendars.com, the 2021 calendars are almost half off and there is still a lot of the year left. The 2021 calendars are being sold for $7.99 or less and no code or coupon is required for the purchase. Better hurry up to buy the 2021 calendars because they are selling fast and once gone, they are gone for good.
Buy 2 Or More And Get 20% Off + Free Shipping
When buying 2022 calendars, there is a current deal that is stellar. If you buy two or more calendars, you get 20% off your order and shipping is free. In order to secure this deal, the code FALL20 is required to be added at the point of checkout. Calendars.com is always adding new products daily and also updates its deals and coupons regularly, so keep your eye out for great deals.
Shipping, Returns, And Track Your Order
Calendars.com lives up to its promises and has an effective and kind customer service approach. The process of checkout on the site is quick and easy. Find the products you'd like to purchase at calendar.com, add the items to the shopping cart, make sure to add a coupon if you have one, then checkout and pay.
Once your order is complete, it can take up to 2 days for the facility to push your order through. In no time you will have your order at the desired delivery address.

After a purchase is made at calendar.com, an order number will be sent with the receipt to you. Tracking your order is made easy with the track order page at calendar.com. The return process with calendar.com is a straightforward process and can be view here.