Melissa started her journey as an entrepreneur when she was a very young lady. She would dream up business ideas, along with her brother, while on vacation. They would just be lying on the beach thinking up business ideas.
One day Melissa was fired from her job, which she had zero passion for, and she immediately called her brother. Her brother told her to go home and begin cooking her cupcakes and there is a business in that. Now, with over 14 locations serving cupcakes, Baked by Melissa is truly a cupcake destination for many.

What is Baked By Melissa?
Baked by Melissa is a cupcake store that creates amazingly fun and tasty cupcakes and treats. There are 14 locations to visit currently, and possibly more locations to come. An online store is accessible and cupcakes can be purchased by the box. Every box is custom completed and filled with the desired cupcakes. From cupcakes to macaroons, Baked by Melissa is a cutting-edge cupcake creator serving clients in person at 14 locations.
Products
Latest & Greatest Cupcakes
This is Baked by Melissa's best-selling item from their stores and online. The package arrives with 25 cupcakes, which are set up as a sampler, to allow cupcake lovers the opportunity to try a host of different flavor combinations.
The Latest includes three of Baked by Melissa's seasonal cupcake offerings, and they also add in the Mini of the Month item. Now for the Greatest. The Greatest includes the eight original flavors that are a must-try, which includes the flavors Cookie Dough, Red Velvet, Tye-Dye, and more.
Order Now
Birthday Cupcakes
A birthday party needs cake and sometimes those cakes are mini personal cakes called cupcakes! Many people don't want to bake a cake and don't even want to carry a knife to the party, so a cupcake is a perfect dessert for this kind of customer. If your friends or family live at a considerable distance, buy online and send them the gift of cupcakes.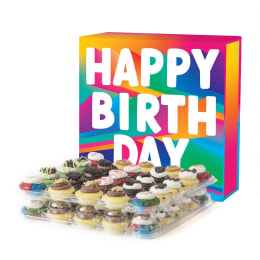 Order Now
Holiday Cheer Cupcakes
Holidays are that special time of year when the family gathers for parties, sharing gifts, and enjoying many different holiday treats.
Cupcakes can make any of these gatherings even more fun and special. Baked by Melissa focuses on the holiday season and delivers great custom holiday creations. Vegan cupcakes, as well as gluten-free cupcakes, are available.
Order Now
Hanukkah Card & Winter Wonderland Gift Box
Sending a gift card or gift box to somebody is a great way to let them know you care. Once the gift is received, smiles will begin to appear as the box is opened, making everybody feel the rush of joy and happiness.
Who knew cupcakes could make people so happy. Baked by Melissa also offers a variety of other treats and items that can make a Hanukkah event special.
February Fix Cupcakes
February is a time for letting your better half know how sweet they are and there is no better way than sending the gift of cupcakes.
There are a great many flavors and designs to choose from to keep your better half sweet through the next year.
Sweetheart Gift Box 50-Pack
Send your sweetheart the 50-pack gift box which features a wide variety of flavors and designs. This box is a great sampler of what Baked by Melissa has to offer.
The Flavors
Baked by Melissa has a great many flavors available including limited edition flavors.
Tie-Dye
Cookies and Cream
Peanut Butter and Jelly
Cookie Dough
Mint Cookie
Red Velvet
are only a few of the flavors available. There are a great many more flavors to choose from.
The Icing

The icing on each custom cupcake differs in flavor. Some cupcakes not only arrive with frosting but also have other treats placed upon the top of the cupcake. The colors of the frosting mixed and matched with the different cake flavors really make each cupcake a special creation.

The Packaging
When you receive a box of cupcakes, the box will arrive in bright tie-dye colors, with the cupcakes enclosed inside. Boxes also have the type of event printed on the front of the box. The cupcakes will arrive fresh and ready to eat.
The Plastic Tin
Cupcakes are packaged in a tightly sealed plastic tin. The tin will help to keep your cupcakes in pristine condition, until being eaten.
Price
Prices vary on products, depending on the cupcake or treat choices. Prices start around $30 and up.
Pros And Cons
PROS:
Cupcakes are a wonderful gift to let someone know you care and a tasty treat as well.
CONS:
The only con is that the box will be empty faster than you can say the word cupcake.
What I'd Change About Baked by Melissa?
If there was one thing I could change about this company, I would like to see even more products available.
Discount And Coupons
Discount codes for online use, as well as coupons, do become available. If you are a first-time buyer, be sure to save on your first purchase.
FAQs
How big are the cupcakes?

Slightly wider than a quarter in diameter.
How many cupcakes to order?

Most people eat 4-5 cupcakes.
Can I cancel my order?

Once the order is placed it is final.
Will cupcakes arrive fresh?

Yes, the packaging is awesome.