My wife was always hounding me about going out and looking for stuff before our wedding, what to pick out, what we should have to eat, music genres, and a lot of everything else. I wish she had an app that would allow that to do it for her. However, there is an app that helps with the wedding simplification process and its Appycouple. I wish that I knew about it, and I would've directed my wife to this app and put in ideas there for her instead of going out all day and shopping till my hands hurt from carrying everything she needed or wanted. I mean, we didn't even use half of the stuff, so yeah, I wish it could've been simplified.
About Appy Couple
Appy Couple is an app that helps you simplify your wedding. You can do all of the work on planning the themes and stuff that you already want, you can select your own spot, and the app basically helps you get rid of all of the hard work. I mean, you still have to set up the work, but it does various things to help you along the way.
They help manage your guest list, send invitations, collect RSVPs, share your itinerary, accommodations, event pictures, and more. They also bring it all together in a mobile app for you, and in this wedding hub, you can bet that it's expertly crafted, where you and you can share and impress your guests. You will be able to sign in to the account, update details, check responses, upload photos, and guests can read your story, book their travel, Dm questions, and feel like their involvement in the process.

Pros And Cons
PROS:
It takes away the hassle of booking and sending so many cards and invitations out.
You can show off your wedding before you even have it.
Your friends and family can even book their travel plans directly in the app and respond to you.
You can even consolidate with vendors in the app as well.
CONS:
This is an app, and others have to download the app to access all the features, which may lead to some people, not RSVPing or knowing that they need to.
How Appy Couple Works
You can create everything about your wedding, make a site on Appy couple, and link your friends, vendors, and more to the account. You take a lot of the logistics out of it when it comes to the paperwork, and after creating the designed page, you will be able to relax and see how many people will be coming to your wedding.
Appy Couple Templates And Desginers
There are so many templates to choose from, including stunning new designs such as Styles like
Templates To Choose
• Rustic • Sparklers • Floral • Modern • Resort • Locations • Colors

Desginers To Choose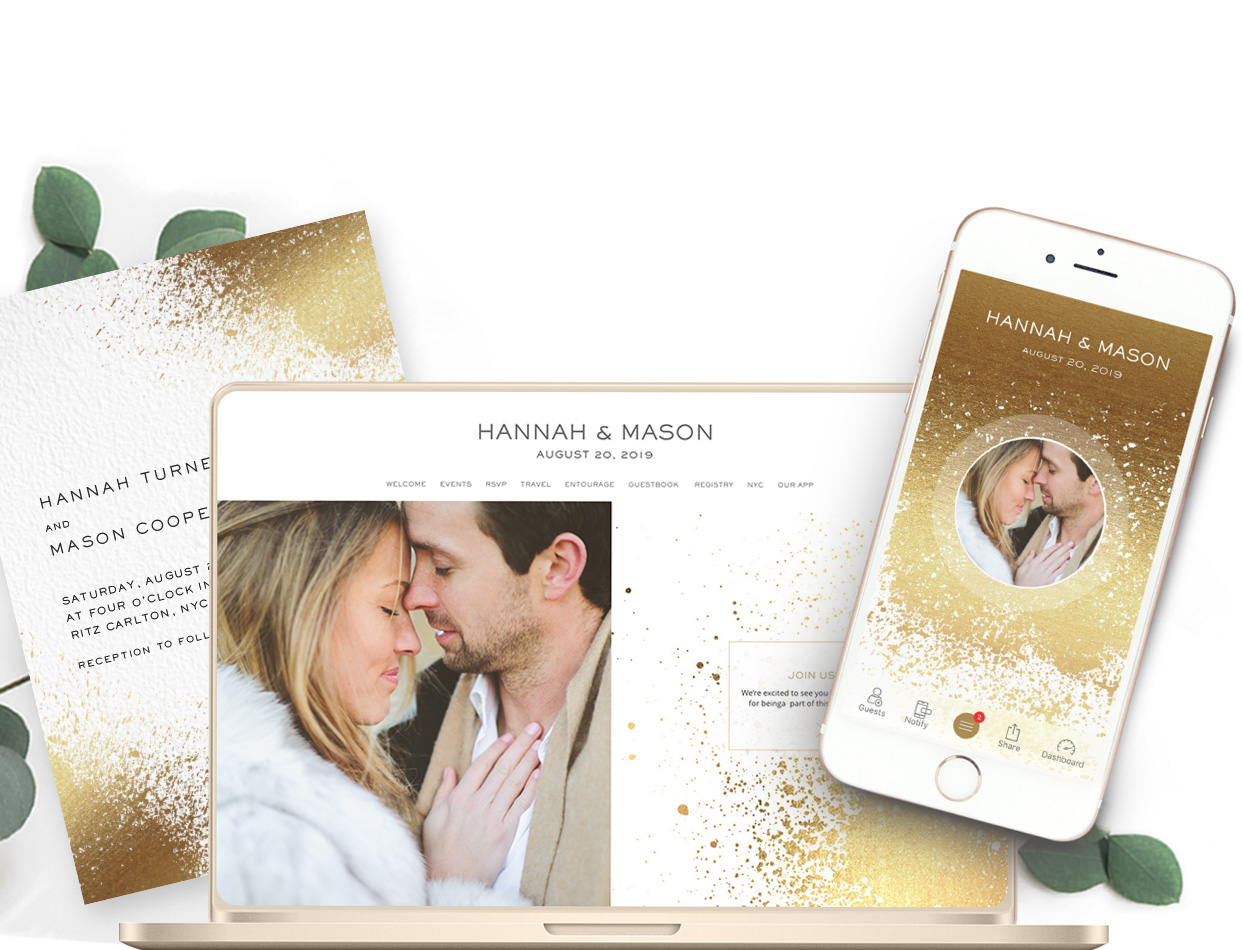 Say Yes to the Dress
Citrus Press
Katie Fischer
Tendr
Brides
Real Simple
Wedding Paper Divas
Bridal bar
Fine Day Press
Williams-Sonoma

It even includes Luxury Collections like Carolina Herrera and Paradise. It also has Monograms. There is a design for everyone, and anyone ever can find at least one, maybe 100, designs that they like.

Appy Couple Features
There are many features to this site: All in One, Set-Up and Design, Organizing and Managing, and Communication and Sharing.
The All in One features are;
No Building Ready-To-Go
Personalized Wedding App
Responsive Wedding Website
Video and Photo Cover Page
Guest List Manager
All-in-One Tool
Limited Edition Designs
Layout Flexibility
Unlimited Access
Customized Sections
Free App for Guests
Plus Ones
Family Groups
RSVP Manager
Custom RSVP Forms
Save the Dates to Thank You's
Travel Concierge
Multiple Event Privacy
Privacy Options
Photo Sharing
Coordinated Digital and Print
Guest List Manager
Guestbook
Countdown
Coordinated Emails
Drag, and Drop Widgets
Customized Guest Access
Virtual Toast
Notifications and Alerts
Multiple Administrators
Multi-Language Capability
Stream Guest Photos
Registries and Gifting
Address Collection
Custom Domains
Unlimited Sharing
Digital Keepsake
24/7 Support.
The other setup features have fewer of these features.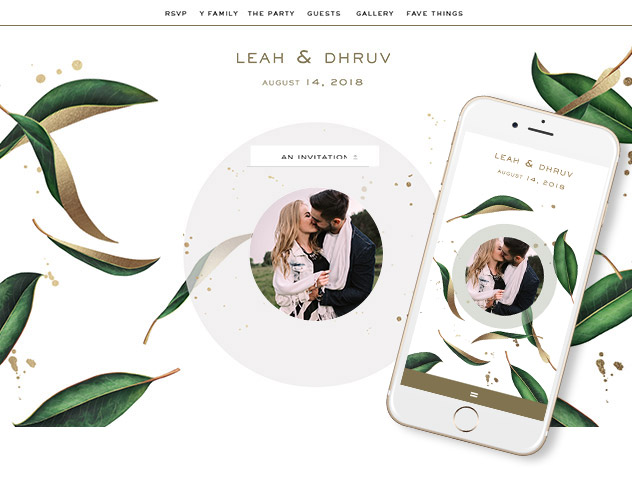 Appy Couple App
The Appy couple app is everything you love on the site, combined in a condensed into an app that you can take anywhere with you in the smallest possible way. It has every feature you can use on the site, plus a few new features.
All of Your Favorite Features
There is so much to love in the features. The features that I love the most are the RSVP Manager, Travel Concierge, and Photo Streaming.
The RSVP manager has so many awesome features that allow you to take the stress away from the day and just relax and enjoy it.
The Travel Concierge because if you have relatives that live a long way away, they can book their travel, letting you know that they are doing all they can to come and see you on your big day.
Finally, the Photo Streaming because you can share everything about your wedding not just before the wedding, but during the wedding, and after the wedding as well.
Appy Couple Guest List
The Guest List is something that most people dread when it comes to a wedding, but with Appy Couple, your guest list is as easy as a few clicks. You can add people directly in the Appy or upload premade lists and filter by event or show, and everyone will show up in alphabetical order. You can even add updates and export new lists as needed.

Appy Couple Registry
With the Appy Couple wedding registry, you can connect your guests to the wedding registry, or you can get tools for cash gifting, so they have more options to show you their love.
With Appy Couple, save the date is simple. It's the perfect tool to help from "Yes" to "I do," and you can personalize the site to celebrate and share modes in saving the date. The Save the Date feature allows you to make a big announcement easily, customized all emails, coordinate the theme, as well as Save the Dates, Reminders, Follow-Ups, and Thank You's.
Wedding Invitation Code
With this feature, you can send announcements, save the dates, invites, and thank you's. You can also choose to edit existing templates or can even make your own from scratch. With endless possibilities, get your wedding invitations ready in no time at all.
Web-based Editor
With the web-based editor, you will be able to edit your site in a flash, You can take full advantage of all of the features, and you will create the wedding of your dreams site for people to see, browse, and even book travel.
Sharing Information
Sharing information about your wedding couldn't be any easier. This site makes it easy to share your wedding details, send out photos, videos, and posts. You can RSVP, send just about everything you can think of.

RSVP Management
With RSVP Manager, you will easily check who said yes, and who said no. You can check by guest name or the total number of guests. Then Override RSVP or set up custom RSVP forms. You will get notifications with real-time responses that keep you up to date on everyone attending.

Photo & Video Gallery
With this feature, you can use modern full-size photos and videos on your cover page. Also, you can save the video once you're done with the event and share them on your site as well. You can also add a slideshow or go with your designs and even add custom text.

E-mail

With this feature, you can use pre-set digital stationery that keeps your look but includes your information, with so much to add to the site, like reminders, follow-ups, etc.

Sections Just For Fun
Sections just for fun include the Digital toast, stream guest photos, Multi-language capability, digital keepsakes, and the countdown.
Couple General Information

If you are looking to add something new to your wedding, then it's time you look at the web for your digital wedding invitations and even allow guests to travel to your wedding.

Help & Contact
Help:
If you ever need help with the website, your design, or something that isn't working the way you want it to, you can always take full advantage of the 24/7 support.
FAQs
What is the Language Capabilities?
You can retype and rename everything in almost every language.
How do Guests search for an Appy Couple Wedding?
Visit Appycouple.com click on find wedding, type the first and last name of the wedding you're searching for, and then apply couple will show you the website of the person you're looking for.
How Do I Get the latest Version of the App?
For new users, you'll find the newest updates in the store. For existing customers, search for the app in the store, and update the app.