Finding the right shade of makeup can be like trying to find the fountain of youth. Sure, lots of people have searched and had ideas, but nothing has panned out. If you're anything like me, you've probably got a drawer in your makeup space with at least two or three foundations that have been used once or twice and never touched again.
The drugstore brands make promises they can't keep. Then there are the brands you've spent years loyal to, even though you know that foundation shade isn't quite right, and it cakes up after an hour. I know I've spent thousands of dollars on makeup over the years without ever being completely satisfied. Some foundations look like I've put them on with a spatula when just applying a standard layer on normal skin.

I was sure the makeup industry could do better, and I was right.
About AJ Crimson
AJ Crimson crafted a foundation line that wouldn't require him to carry so many different pallets as a professional artist to have the right combination of colors. No matter how light or dark his client's skin was—a makeup line so inclusive that it can go from Hillary Duff to Brandy.
And from there, he expanded and created a lip line that gained attention from Oprah for its rich pigmentation that doesn't just claim to work on every skin tone but does it.
The AJ Crimson line is luxury makeup intended originally for professionals and, as such, comes with that price tag. Still, as they say, you do get what you pay, and that couldn't be truer than in the makeup industry. If you're used to buying any luxury brand, you won't be too surprised by the cost.
Until the AJ Crimson line, no colors were pigmented for the entire range of skin tones. The AJ Crimson line does just that and does it with luxury and grace.
First, let's look at the assorted products and what they have to offer. Then we'll get down to how to make these an affordable part of your daily makeup regime.
Most Bang for Your Buck: Artist Kits Professional or Semi-Professional
Professional
Artist kits have a steeper price point up front, but each of these kits includes six foundation pans. In the AJ Crimson line, each of the foundation pans is created with care and hand-poured.
Semi-Professional
Those who are more accustomed to liquid foundation may be hesitant to try one of these cream foundation pallets. Still, they aren't like the drugstore creams that often take brute force to get on and prove impossible to smooth or blend.
Instead, these creams are velvety and leave a look that is barely there but full coverage all at the same time. It's seriously almost like magic. They take minimal effort to apply and are easily blended, one of the most important keys to a flawless finish.

Paint With the Colors of the Rainbow
Correct And Conceal Kit
First up is the
correct and conceal kit
. For those of us with troubled skin, this is a must-have item. The conceal and correct is the go-to kit to handle everything from those pesky little acne spots to severe skin condition coverage.
Fair to Tan Kit
Next up is the fair to tan kit. For those with lighter complexions, this is the kit for you. It's got six shades, ranging from 1 up to 4, meaning that it will take you from the dead of winter, where your cheeks might be rosy from the cold, but you haven't seen the sun clear into the middle of summer. Again, because you get a variety of tones, you can blend and build the right shade to match your skin.

Warm Deep Kit
Next, we have the warm deep kit. This kit ranges from 4.5 to 8, which most makeup lines don't even offer. Just like those with lighter skin, this will take you from winter to summer without issue. The range of shades makes sure that you can match your face's lighter and darker areas while still getting complete coverage. The cream foundation is perfect for any type of skin, be it dry or oily.

Suppose you are a professional or semi-professional makeup artist. In that case, you want to look at this as more investment in your business. You may want to splurge and go for the three-book kit, which gives you all three of the above options, allowing you to work on a much more diverse clientele.

With each of the above color combinations, you can use the lighter colors for highlights and the darker shades for contouring, saving the need for a separate contour and highlighter pallet. By using the same products for this step, you also guarantee that they will blend flawlessly.

Empty Pallet Build
Last in the kits is the
empty pallet build
your own option. If you fall somewhere in-between the above color collections or know you never get tan, instead add part of the concealer pallet to your regular foundation needs. The ability to make the artist kit into a dual-purpose pallet allows you to justify the higher price range.
Individual Pans
You can buy the
individual pans
for the artist kits, which is great when you realize you
use a # 6
more than anything else in the kit. You can refill just that pan and still use the others for your highlights or concealing.
These kit options are fantastic for professional makeup artists or those super dedicated to doing their makeup to the nines all the time. Still, there are better options for the more casual makeup wearers out there who don't need a six-color pallet to do their makeup for a night out.

Individual Foundation Compacts

So, suppose you're looking for more something just for your daily makeup routine. In that case, you're going to want to check out the individual foundation compacts available. They come in the same shades as the professional kits but with a more affordable price tag and a more reasonable size for everyday use.

The colors are all just as pigmented and the same formulation. In addition, all the AJ Crimson dual skin foundations are made with beeswax, are paraben-free, and have a cruelty-free promise. These foundations are strong enough to give you full coverage or cover a tattoo in a pinch.

With foundations, the perfect coverage and how long that coverage will last isn't just about finding the right base. It's also about how you keep that foundation lasting through photoshoots or long days at the office into a night out.
The Perfect Setting Powder for All-Day into Night Lasting Wear
Setting powder is the key to really getting any foundation to last and look flawless. One technique that requires setting powder is the ever-popular baking.
The baking technique for foundation uses setting powder applied to the areas of the face that tend to crease throughout the day
Example
For example, the area under the eyes. Dust the area with powder and bake for five to ten minutes, then brush off the remaining powder is one way to help create a smooth look that will last from morning into night. The universal finishing powder by AJ Crimson was designed with baking in mind.
Universal Finishing Powder Benefits
AJ Crimson setting powder comes in a range of shades and even a shade sampler pack.
The Neutral matte color is excellent for all skin tones. It's a slightly tinted translucent shade that will help get rid of shine and set either foundation or highlighter.
The Bamboo tone has a yellow-based tint and can be perfect for those baking techniques we talked about earlier. You can apply bamboo finishing powder in the T-zone to help reduce excess shine for those with oilier skin. It still works on all skin tones because it's a tinted translucent, with a touch of a yellow tone.
Toasted Cinnamon is best for warm skin tones; it's tinted translucent with a red base. You can use this setting powder if you have a warmer, deeper skin tone or for those medium tones trying to set those deeper contour lines then blend out to other colors.
Rich umber is the darkest of the tones with a brown base. Like the others, this powder is still translucent but perfect for setting foundation on darker skin tones. In addition, you can use it to set even the deepest of contour colors and shades.
Their powders are jet-milled, providing a finish smooth as satin that's perfect for standard-setting powder and baking. Because it's so finely milled, it means that it will go on evenly and leave your skin feeling smooth without any caking or flaky appearance. High-quality setting powder can be a game-changer for your overall makeup look. It gives you the blend-ability and staying power to go from a day look to a night look without starting from scratch.
Plump Lucious and Luxurious Lip Products
There are hundreds of brands of lipsticks and lip glosses out there. But many of them aren't designed to work on all different skin tones. Instead, most brands design around lighter skin, and those with darker skin tones have to make do with how well they show up or, in most cases, really don't.
AJ Crimson designed his products the other way around. He was thinking first about the darkest skin tones and ensuring that his creations would pop.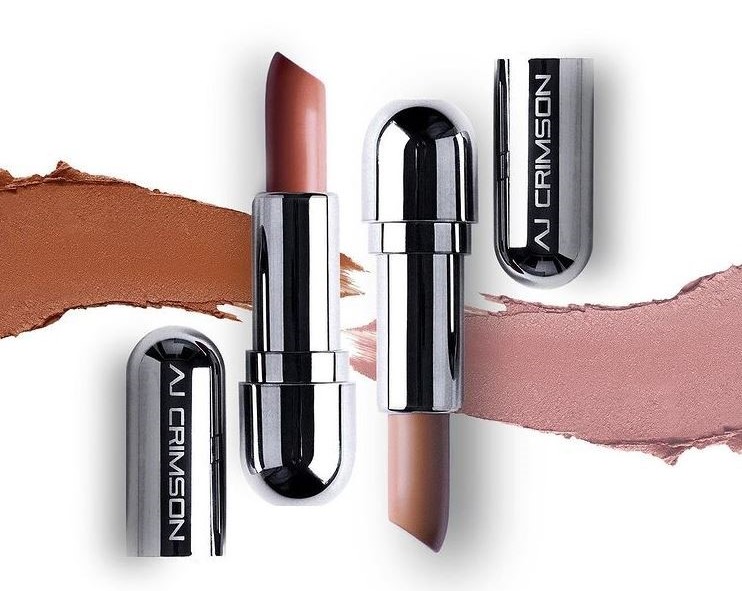 Glossy Makes Ya Bossy
The beauty forever slay matte liquid lip gloss line is a stunningly powerful set of lip glosses in some of the most varied colors around. AJ Crimson created these glosses with only the highest level of professional pigments, and that's what makes the difference.
This part of the lip product line comes in matte, metallic, and juicy styles.
1
The color "
Chris
" is one of the high-shine options. It is an amazingly light yet highly pigmented peach color that leaves you with a long-lasting glossy finish. It's perfect for a daytime look.
2
If you want something a little bolder and enough pigment to get the attention of anyone. In that case, check out the "Go Off"
metallic color
; it's a brilliant purple that shimmers and shines with a metallic sparkle.
3
If matt is more your style, consider the "Ruby Who" color in the matte liquid lips line. Liquid matt gives an impressive velvet appearance, and this color is one of their absolute best sellers. If you've been afraid of liquid lip colors that aren't glossy, this is a magnificent place to start.
Buttery Soft Solids
You can't get more classic than solid lipstick. However, these aren't your mother's or grandmother's waxy chunky lipsticks. Tube lipsticks have come a long way, and these are among some of the best on the market.
Like all the other AJ Crimson products, these lipsticks are serious luxury packed into beautiful sleek-looking packaging. In addition, they come in both more traditional colors and shades that are striking and brave.
There are nine colors in total in this line, and each one of them has its perks, but here are a couple of my favorites.

"
Role Play
" is one of the boldest colors in the line. It's a stunning showstopping orange-red that you don't see nearly often enough anymore. This color can look fantastic on anyone with any skin tone there is. It's a bold choice and should be paired carefully with fashion choices, but it's unique and sure to spark a conversation.
If you want to go with something a little more traditional, then I'd recommend the color "
#Sips Tea.
" It's a deep burgundy tone with so much pigment you're going to be shocked. Particularly, with a warmer complexion, this color is so complimentary it will seem like it was made just for you.
The Office Just Got More Interesting
Office politics are the newest line in the AJ Crimson lip offerings. They are stand-alone cream glosses that can be used for softer looks or create a bolder statement by pairing them up with solid lipstick.
In the highest shine around, five new colors are found in this batch of liquid lip gloss. Inspired by the power of working women, these shades are perfect for that everyday makeup look you wear to the office with quirky names to go along.
"Regards," for instance, is a stunning orchid shade with a hint of smokey muted beauty. These are so lightweight you'll forget you are wearing them until you realize how soft your lips have gotten. Thankfully, this gloss is vegan-friendly and has skin-nurturing vitamin E.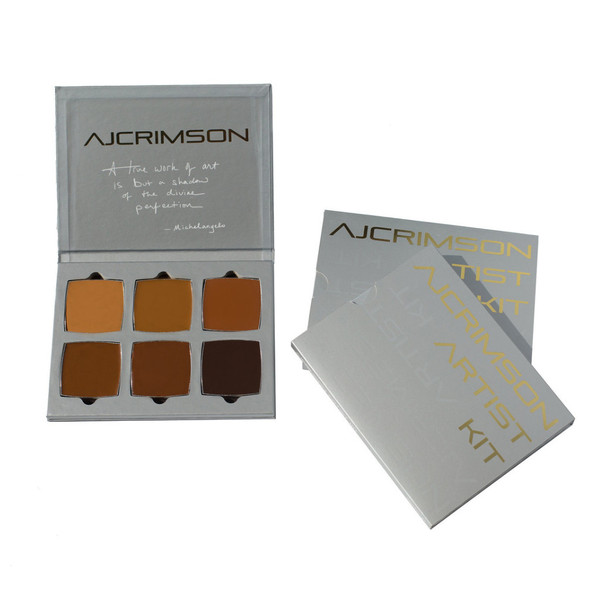 Getting More For Your Money
Luxury doesn't come cheap.  However, there are a few ways you can make that dollar stretch a touch farther if you are willing to go the extra mile.
V.I.C. Membership
First up, you have the
V.I.C. membership
. Now, this is a paid membership running
$120.00
upfront yearly. However, if you plan to work with this as a professional artist, the savings are worth it. It comes with a
40% off year-round
on any regularly priced merchandise as well as
two-day shipping
on orders
over $60.00
. To lure you in even more each year, you'll get two complimentary lipsticks chosen by AJ Crimson himself each season.
Retail Therapy
Retail therapy is probably the following best way to save. I know most people prefer to do their shopping all online these days. However, AJ Crimson products are sold at
Nordstrom
, and they often have their own coupons, sales, and in-store specials. So, if you want to get that perfect foundation for less, this might be the best option.
Poshmark
Finally, you can check on
Poshmark
, a popular resale site. With Poshmark, you can save a ton on name-brand makeup, but there are a few risk factors you want to consider. In this case, you are ordering directly from an individual, not a brand or company. So be sure to check the reviews on the seller you are considering. You can report them if they sell something fake and sometimes work with posh to get your money back.
Is It Worth The Price Tag?
Overall, AJ Crimson is a solid new frontrunner in the high-end makeup industry. It's a brand to keep an eye on. The company's dedication to inclusivity makes them a leader in the industry, but the quality is what's keeping them growing. It's not significantly more expensive than other luxury brands. The membership club, which not all brands provide, offers significant savings if you plan to update your current makeup, even as a buy-in program. With a range of colors and products to suit just about everyone, if you're going to try one new makeup brand this year, make it AJ Crimson.